Janet K. Brennan
Biography
Janet K. Brennan, AKA JB Stillwater, lives in the foothills of the Sandia Mountains in Albuquerque, New Mexico with her husband, Arthur, a great gray cat named Amos, and a border collie named JoJo.

Janet has released a book of inspirational poetry entitled A Stronger Grace (Casa de Snapdragon, 2007), a book of southwestern poetry entitled Recollections of an Old Mind, West (Cyberwit Publishing, 2006), and a critically acclaimed novel entitled A Dance in the Woods (Casa de Snapdragon, 2007)

Her poetry and short stories can be seen in various books and magazines, including: SP Quill Magazine, Common Swords Magazine, The Power of Prayerful Living (Rodale Books), Taj Mahal Review (Cyberwit, 2004 thru 2008), Different Worlds - A Virtual Journey (Cyberwit, 2006), Chicken Soup for the Christmas Soul (Chicken Soup for the Soul Publishing, 2008), and Earthships, a New Mecca - An Anthology of New Mexican Writers (Horse & Tiger Press, 2007.) She has been listed in the International Who's Who in Poetry.

Her colored pencil art-work and photography have been published in Taj Mahal Review, 2005-2006 and she is currently writing book reviews which have been published in the Greenwich Village Gazette and can be viewed at her website jbstillwater.com.
Janet's on-line publications include Strangeroad.com as well as IdentityTheory.com where you can read her short stories, poetry and philosophical essays, including Existentialism; a Myopic View. She was the featured poet in Poetry Magazine in the autumn of 2007.

Janet attended the University of New Hampshire, Hesser Business College and has a legal certification from the University of New Mexico.
Where to find Janet K. Brennan online
Books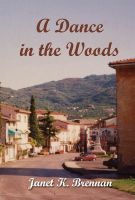 A Dance in the Woods
Anna and William Benton felt secure with 3 beautiful children, a home in the desert of New Mexico, and a wonderful marriage. Then tragedy struck. Their eldest daughter Beth was admitted to a hospital with respiratory problems. Just days later, she suddenly passed away in the middle of the night plunging Anna into the depths of depression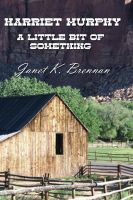 Harriet Murphy: A Little Bit of Something
Come in, enjoy a cup of coffee, and sit a spell with Harriet Murphy as she regales you with her tales of family, life, and love in the early 1900s in the former gold mining town of Old Pine near Lake Tahoe in Northern California.