Janet Koch
Biography
Janet grew up in Michigan and graduated from Eastern Michigan University in the 80s with a (mostly unused) degree in geology. Currently, Janet and her husband share their house with two very strange cats. When Janet isn't writing, she's working at her day job, reading, daydreaming, or doing some variety of skiing. Janet also writes the PTA Mystery Series under the name Laura Alden. "Plotting at the PTA," the third book in the series, was released in July 2012.
Books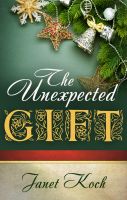 Unexpected Gift
By
Janet Koch
Price:
$0.99 USD.
Words: 7,130. Language: English. Published: November 16, 2012. Category: Fiction
Short story: On Christmas Eve, a family grown distant from each other has an unexpected, and mostly unwanted, teenaged guest. Will the boy push the family farther apart? Or will he bring them back together?
Janet Koch's tag cloud
Smashwords book reviews by Janet Koch