Jesse Habbick
Biography
Jesse Habbick is currently on his final year at Full Sail University, earning a B.F.A. in Creative Writing for Entertainment. He currently works for a company supporting adults with disabilities and loves every minute of it. Jesse looks to his family to keep him centered, down to earth and sane. He believes that he gains strength and perspective through writing about the things that scare him the most, namely monsters and the loss of loved ones. Jesse enjoys spending time with his friends and family, his two cats and two dogs (yes, they get along, usually), playing video games, listening to music, hiking, fishing, cooking, eating, and horror movies. His favorite authors are J.K. Rowling, H.P. Lovecraft, Bram Stoker, Terry Prachett, David Gemmell, Brian Jacques, Max Brooks and Bill Watterson. His favorite movie is Mars Attacks!
Where to find Jesse Habbick online
Books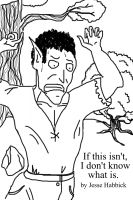 If This Isn't, I Don't Know What Is.
An elf races for survival as he considers the definition of irony.
Jesse Habbick's tag cloud