Jon Lang
Biography
I was raised deep in the Midwest, where the land is sold in acres and the horses, cows and chickens outnumber people. I fled as soon as I could by going to UC-Berkeley, and ended up graduating with a degree in Japanese with a few years of molecular cell biology on the side. Fleeing even further, my travels took me to Tokyo, where I discovered the best sushi and the worst weather. The wind has now blown me to Seattle, where I can be found running down Pike St. yelling, "Go Seahawks!" at the top of my lungs, in turn scaring small animals and children.
Smashwords Interview
Where to find Jon Lang online
Books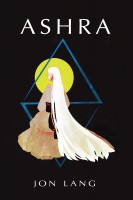 Ashra
During a failed mission against the Sanctum Empire, Alan Belmont, an Einhart officer, rescues an escape pod from a doomed ship. He learns that it contains Ashra, a young Sanctum princess whose psychic powers make her wanted by every side. Alan is forced to balance his duty to the Einhart with keeping the princess safe, all while he and his team continue fighting the Empire's royalty and creations.