PolyMathicJon
Biography
My forefathers have contributed to the strength and development of this country for 333 years. Herbalism and the art of wellness has been passed on and preserved by my father, my father's ancestors, and now by me. I do not practice the art and science as a physician. A physician is qualified by many things but, mostly by his/her college degree. I practice the Art and Science as a Man who has something that many people with a degree do not have, I have unbroken pedigree! My experiences inform me in a manner and authority that can only come by way of great genes and relentless reawakenings.         
Where to find PolyMathicJon online
Where to buy in print
Books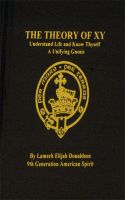 The Theory Of XY - Wake up before the 8th Coming!
(5.00)
When will You know and decide? Alignment is Everything! Awaken with Life Changing Observations. Embrace the future with confidence in creation's plan for 2012, Earth's changes and beyond. Destiny begins with Identity. Identity is empowered by Eternal Truth and Alignment with its source. Know about the 8th coming and more!