Jools Sinclair
Biography
Jools Sinclair lives and writes in the in-between world of Bend, Oregon, where sunlight kisses snow, mountains reach for the desert, and long summer days cascade into night. She watches it all, perched atop her butte, with her giant orange cat.
Where to find Jools Sinclair online
Books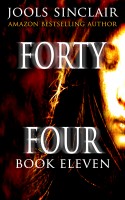 Forty-Four Book Eleven
Now the prime suspect in a high-profile murder investigation, Abby Craig flees the only place she has ever called home and is forced to live on the run as a fugitive in the shadows of the American Southwest. But Abby soon discovers that she isn't alone. A mysterious stranger is plaguing her every step. A stranger with a dark past who has plans for her. Plans that might include her own death.