Joshua Skye
Biography
Joshua Skye was born in Jamestown, New York but grew up in the Texas Dallas-Fort Worth metroplex. He is a graduate of K.D. Studio Actor's Conservatory of the Southwest and has worked on indie/underground films and onstage. His short stories have appeared in anthologies from STARbooks Press, Knightwatch Press, Sirens Call Publications, Rainstorm Press and periodicals such as Blood and Lullabies. He is the author of "Xerxes Canyon," "The Singing Wind," the forthcoming "Midnight Rainbows," and "The Argento." You can find Joshua online at: Joshuaskye.yolasite.com.
Where to buy in print
Books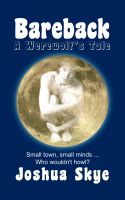 Bareback: A Werewolf's Tale
Alex lives in a small town with little to offer a young gay man. So when he meets Morgan, a handsome Brit, he falls hard. After a weekend of untrammeled lovemaking, Alex becomes deathly ill; he is now a werewolf. Meanwhile, people are dying, victims of a wild animal. Who else but his lover, a ruthless man/wolf, could be responsible for the deaths terrorizing the community?
Joshua Skye's tag cloud