Kathie Deviny
Biography
After retiring from a career as a "government bureaucrat" serving primarily in the criminal justice system, Kathie Deviny studied creative writing. Her essays have been published in the Seattle Times, Episcopal Life, Cure magazine, and Faith, Hope and Healing by Bernie Siegel. Kathie and her husband Paul divide their time between California and Western Washington. Death in the Memorial Garden is her first novel. You can find Kathie online at Deviny.camelpress.com.
Where to find Kathie Deviny online
Where to buy in print
Books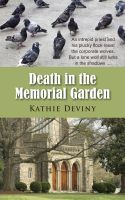 Death in the Memorial Garden
A box of unidentified ashes is unearthed during an interment ceremony. With their congregation dwindling and their world literally falling in around them, Father Robert Vickers and his colorful staff members and volunteers put their heads together to solve the mystery of the ashes and find the means to save Grace Church from the developers … all in time for the Bishop's visit.