Kelly Madden
Biography
Kelly Madden lives with a ferocious Ocicat and her husband who is also a writer, but not ferocious. She lives on the edge of a lake which is as close to beach living as the Midwest gets. She enjoys painting, dancing, and hiking when she isn't writing. Kelly has over twenty short stories published in various genres and publications, has been included in four anthologies, and has five published novels.
Books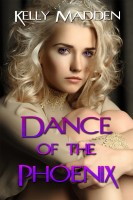 Dance of the Phoenix
Q'ella might appear to lead a glamorous life: her appearance is human standard perfect and unlike many fairy creatures, her kind is admired and sought after. Meet Que, short for Q'ella; a former royal forest fey, now the owner of a dance studio post-Reckoning, the day when all fairy creatures became visible to humans.
Kelly Madden's tag cloud