Kelvin Baggs
Biography
Kelvin Baggs was seriously bitten by the "travel bug" many years ago and loves to spend his spare time travelling the world in search of interesting cultures and food.

Kelvin has travelled to many countries including Australia, Canada, England, Bali, Cambodia, China, Denmark, Egypt, Finland, Greece, India, Italy, Japan, Laos, Malaysia, Mexico, New Zealand, Norway, Portugal, Russia, Singapore, Sweden, Thailand, Taiwan and Vietnam - just to name a few.

For more than 10 years Kelvin has been booking his own travel online, enjoying the experience of researching his destinations and finding some great bargains online. After years of booking his own travels, Kelvin has shared his tips, ideas and experiences in this book.
Where to find Kelvin Baggs online
Books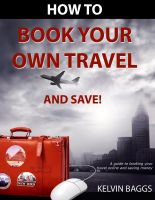 How to Book Your Own Travel and Save
"How to Book Your Own Travel and Save", is a first-of-its-kind book, showing you how to book travel online, safely, securely and saving money. This do-it-yourself travel book covers, where and when to travel, and how to book cruises, flights, hotels, tours, trains, transfers and insurance. Heaps of other travel tips are included to prepare you for a great getaway!