Laura Kennedy
Biography
LAURA KENNEDY lives in Tarpon Springs, a Greek sponge fishing town on the West Coast of Florida. She grew up in Minneapolis where her mother was a romance writer who helped her father support the family. By the time she was twenty-two, she lived in Southern California, was married, had a baby, and was broke, the perfect Petri dish for the beginning of a writing career. Encouraged by her mother's writing success, Laura borrowed her mother's portable typewriter on which she concocted her first story that sold for the staggering sum of $225.
Where to find Laura Kennedy online
Where to buy in print
Books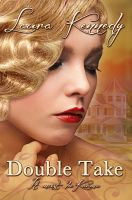 Double Take
When 16-year-old Brooke Bentley's convertible and cell phone conk out during a rainstorm, she believes it's just bad luck. But when she darts through the dark to a dilapidated Victorian she thinks is her friends and is invited in by a butler in a faded black tux, Brooke knows it must be karma. Because how often do you meet a reclusive 1950's movie star who thinks she's actress Terry Moore?