L.M. Wood
Biography
Lynn Wood writes about the intersection of the supernatural with everyday life. Where does reality end and fantasy begin? What is truth? What is faith? The Awakening Series tells the story of a young woman's discovery of a past life, a past love, an ancient enemy, and a people who await her return to rescue them from a threatening darkness. Written for a young adult audience, the story will appeal to all readers who enjoy the majesty of an epic fairytale, the eternal struggle between good and evil, and a love story that spans millennia. The Firstborn Series explores the eternal connection between angels and mankind. The Archangel Michael and his fallen brother Lucifer, share their opposing views on man's history, the apocalypse predicted in the Book of Revelation, and man's ultimate fate. Both a treatise on faith and a fast paced suspense thriller, the series will appeal to adults who like mysteries with a supernatural undertone. Her latest book, Yoga Behind the Veil, explores the mystery behind the enduring popularity of yoga and how it can serve as a launching point for a journey of self discovery and unveil the secrets of the infinite.
Where to find L.M. Wood online
Where to buy in print
Books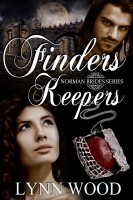 Finders Keepers
by

L.M. Wood
Stunning, willful Lady Melissa of Saxony refuses to kneel before the Norman invaders. In an effort to evade capture she slips away from her ancestral home in advance of the Norman siege only to find herself at the mercy of the very enemy she seeks to escape. Now she must decide if she can trust her heart and her future to a Norman lord.