Chase LeBlanc
Biography
Chase LeBlanc is the founder and CEO of Leadagers™ LLC. He is a food and beverage industry professional with almost thirty years of experience in the ownership, openings, operations, and turnarounds of high-volume restaurant and nightclub concepts. His experience includes leading training stores, fine dining establishments, high-volume theme restaurants, entertainment complexes, quick-service and fast casual restaurants, night clubs/dance clubs, comedy clubs, dueling piano bars, full-service catering operations, pizzerias, high-volume sport's bars, live music showrooms, retail stores and gift shops, fast-food concessions, banquet facilities, and high-volume arcades. Chase has led independent, publicly-traded, and government (AAFES) food, beverage, and retail facilities. He has a track record of developing strong leadership talent and building sales and profits in multi-unit restaurant operations.

Chase began his career as many hope to wind up — as a successful entrepreneur and owner of a nightclub development and management company. In 1980, at the age of twenty-one and fueled by creative, entrepreneurial inspiration and drive (combined with albeit minimal experience), Chase opened what quickly became the hottest nightclub in Boulder, CO, one of the premier party towns in the USA. Thirty years later, after successfully selling that business and serving in virtually every leadership role in the hospitality industry, including General Manager, Multi-Unit Manager, Regional Manager, and President, Chase is now the CEO of one of the most innovative, boutique consulting firms serving the global hospitality and food service industries, Leadagers™ LLC, which focuses on the step-by-step, values-based transformation of key carriers into torch carriers.

Additionally, Chase has recently authored a Ken Blanchard-endorsed book for the hospitality industry, "High Impact Hospitality: Upgrade Your Purpose, Performance, and Profits." Having worked on both sides of the hospitality management/leadership - ownership coin, Chase knows what it takes to succeed — and the pitfalls and mistakes to avoid. He has earned his hard-won wisdom, and shares a seasoned hospitality insider's perspective in the book. Chase also offers a power plan to help any individual or group improve their purpose, performance, and profits.

Chase is a columnist ("The Staffing Doctor") for Hotel F&B magazine and a frequent blogger for the hospitality and food service industry. In addition, he has been a contributing writer for (and been featured in) the following publications: Cheers, F&B, Food Service News, Hot Spots America, Military Club & Hospitality, Nation's Restaurant News, Night Club & Bar, and Top Shelf.

Chase is an accomplished motivational speaker and trainer on the subject of food and beverage leadership and management. He addresses large trade show crowds as well as company-wide employees and management teams. Chase is known for his strong, expressive communication skills and the innate ability to translate insightful understanding into effective action. He is a respected leader well-known among his peers for his cool-under-pressure demeanor and his unique and effective leadership style. Chase has produced and conducted hundreds of motivational and departmental seminars and has trained scores of food and beverage employees.

Chase lives in Denver, Colorado, with his wife and three children.
Where to find Chase LeBlanc online
Books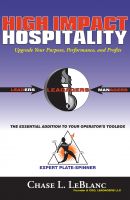 High Impact Hospitality
Ken Blanchard, co-author of The One Minute Manager says, Chase LeBlanc is a veteran of the restaurant management industry. His expert advice will kick start your journey toward improving your value as a manager. High Impact Hospitality is a fresh and enjoyable read." The book provides a detailed and highly entertaining blueprint for improving your performance and value as a hospitality manager.