Susan L. Strickland
Biography
I am a poet and a writer of fiction mainly. I have several eBooks coming available very soon.
The first eBook I made available, and then removed to update with artwork is Motherly Designs, a shorter book than most of those I have written. It is autobiographical, everything in it actually happened. It's a humorous book about my younger years in Farmington, NH.

I have recently published a new compilation of poetry quite different from anything I have written before. It is Sweet Cherry Wine and is sexy poetry entailing my love for a man and some of the poems are based on actual encounters so to speak. Others are dreams I would say. I use humor which in my opinion goes well with sex. This is available for mature readers.
Next I will publish a collection of stories written about a tiny lizard.
Where to find Susan L. Strickland online
Books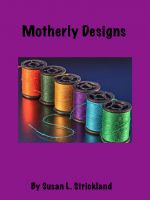 Motherly Designs
Five years of elementary school in a small, very poor New England town wearing clothes designed and made cause a girl to grow up with creativity and high self esteem. This is a must read for mothers of elementary and middle school age daughters and for the daughters themselves. No patterns, no sewing lessons, just humor and insight into mothering and growing up in classy clothes.