Liron Yankonsky
Biography
Liron Yankonsky was born in Israel in 1990, under the gulf war's bombing sounds. Luckily he survived it, and has been drawing ever since he could hold a crayon.

At age six, it was already clear that Liron had an intuitive understanding of different art concepts, as reflected in his perfect recreations of Dr. Seuss's books, in his spare time.

Growing up, Liron served in the IDF, receiving numerous certificates of excellence for his duty. Throughout the years, Liron kept cultivating his art and drawing talent, while teaching other people the things he learned.

Today, his biggest passions are drawing, self development and helping other people.

He recently published his first book: "Draw In Perspective By This Weekend - For the Extreme Beginner". Liron also writes a "How to" blog on drawing.
Books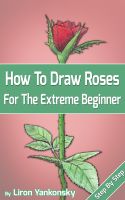 How To Draw Roses: For The Extreme Beginner
The long awaited, complete guide on drawing roses is finally here! This book will take you by the hand, providing you with quick and easy, yet highly in depth material and exercises for learning how to draw roses. Get your copy TODAY, and master drawing roses!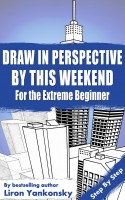 Draw In Perspective By This Weekend: For the Extreme Beginner
"Draw In Perspective By This weekend" is a simple book, targeted for beginner and intermediate artists. If you follow this book, you WILL be able to draw in perspective by this weekend. Get your copy TODAY and master drawing in perspective!
Liron Yankonsky's tag cloud