Luisa Maria Celis
Biography
Luisa Maria Celis was born in Caracas, Venezuela. She lived in Germany and emigrated from Venezuela to Canada eight years ago where she studied English, Art and History courses at BCOU. Property Manager by profession and autodidact in most things, she started writing some fifteen years ago and has produced a self-published romance Dos Zafiros y un Rubi (2001), in Spanish, and poems, children's stories in both English and Spanish. Arrows is the first of a series of three historical novels that tell the story of an epoch that saw the birth of the Caribbean.
Where to find Luisa Maria Celis online
Where to buy in print
Books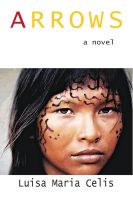 Arrows
How does a monk raised in a monastery deal with naked women and the atrocities of war? In 1566, Spain expands its dominion over the newly discovered territories not yet widely known as America. The many native nations of this new land pose no threat to Spain's superiority, despite the ferocity of their resistance...