Lue Christian
Biography
About the Author: Upon retirement from the wine industry, Lue Christian took up writing, something she had yearned to pursue most of her adult life. Eventually, she garnered some state and national awards on some of her non-fiction work. At that time, Lue decided to go into the world of fiction. She studied for two years with several professionals and, during that period of time, Boomerang was born. The book has a Canadian locale because of Lue's maternal roots being in Quebec City and Montreal. She lives in the agriculturally famous San Joaquin Valley of Central California with her husband Shannon and their cat Suma. In 1995 the couple undertook, and completed, an unassisted transcontinental journey from their home to Quebec City … on a 'Bicycle Built for Two'.
Where to find Lue Christian online
Books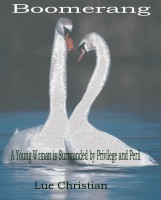 Boomerang
by

Lue Christian
Stalked by a dead lover from her past, the young mother and wife of an immoral man strives to unravel the puzzle and stem the danger that threatens her sanity and her very life. As her jeopardy intensifies, she enlists the help of her doctor. They discover a searing passion for each other to which they dare not surrender. The site is on an island near historic Quebec City in the year 2009.
Lue Christian's tag cloud