Marilynne Miles Gray
Biography
How did I land in the field of mentoring?
Long story short: with 15+ years of teaching experience behind me (ranging from high school to university levels), I collected another 8 years of mentoring program experience. It seemed reasonable at that point to partner with my husband to start a company specializing in the design of mentoring materials and programs.
This work has taken me to Borneo, Germany, Mexico, Australia, the USA and Canada where I've met some wonderful people.

I hold two English Lit. degrees from the University of British Columbia, 2 Permanent teaching certificates (Ontario, B.C.) along with a degree in Educational Administration and doctoral-level Curriculum Design courses from the University of Toronto (OISE).
Where to find Marilynne Miles Gray online
Books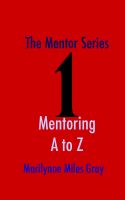 The Mentor Series: Mentoring A to Z
From the desk of an award-winning expert: material on 90+ topics to help you forge even better relationships. Here are issues and answers you would never have imagined are important. Insightful exercises. Fresh. Provocative. Meant for anyone who aims to be proactive about mentoring/coaching. Don't miss it!