Martin Lee Bailey
Biography
I'm just a regular fella from a northern town. I like a drink and good music. My influences are Ray Davies, Pete Townshend, Zombie movies, beer, and rum & black. I like foreign food and foreign films and the good old village green...
Books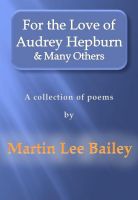 For the Love of Audrey Hepburn & Many Others - a collection of poems
By
Martin Lee Bailey
Price: Free! Words: 2,450. Language: English. Published: August 9, 2012. Category: Fiction
This is a collection of poems that celebrates the moods and landscapes of mind and vision. It is a journey of physical and mental discovery. Sometimes serious, sometimes whimsical, but always sincere.
Martin Lee Bailey's tag cloud