Mary Rawnsley
Biography
Mary Rawnsley was born in Glasgow and first began to write for her School magazine. Her varied working experience includes nursing and teaching. After marriage, she returned to writing and soon articles, poems, children's and adult stories began to appear in magazines and local newspapers. Some of her stories – both for children and adults, have also been broadcast on Radio Scotland and other stations. Mary is retired and lives in the Scottish Borders.
Where to buy in print
Books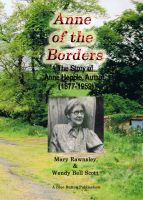 Anne of the Borders - The Story of Anne Hepple, Author, 1877-1959 - by Mary Rawnsley & Wendy Bell Scott
(5.00 from 2 reviews)
Written to mark the 50th anniversary of the death of Anne Hepple, novelist, who lived most of her life in Northumberland and Berwickshire. Her books, which often feature thinly-disguised local places have been read and enjoyed worldwide. Print Version Published 2009.
Mary Rawnsley's tag cloud