Matt Peters
Biography
Matt Peters has an MFA in Creative Writing from the University of New Orleans and a BA in English from the University of Central Florida.

Matt is the managing editor for Beating Windward Press. He's worked as a marketing coordinator, bookseller, layout editor, copywriter, tech writer, drug counselor, social worker, university professor, high school teacher, tow-boat crew, and sailor.

His non-fiction has been published in IMPACT!; Axis Magazine; Writing Choices: Shaping Contexts for Critical Readers edited by Dr. Kathleen Bell; and Voices Rising: Stories from the Katrina Narrative Project edited by Rebeca Antoine. His fiction has been published in Keeping Track, edited by Yelizaveta P. Renfro, Bits of the Dead and Skeletal Remains edited by Keith Gouviea; There Will Be Words, Burrow Press Review, Burlesque Press Variety Show, and 580 Split by Mills College.
Where to find Matt Peters online
Books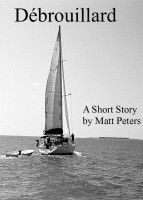 Débrouillard
This is a short story about Kendall, a sailor stuck in Venezuela, who needs to figure out what to do now that the boat's captain has given up sailing and is flying back to the States. Does he find someone to help him sail the boat home or backpack around South America? And what's that third option he's too busy to notice?