Matt Violassi
Biography
I began creating paintings such as these 25 years ago out of a desire to be "re-exhilarated" with profound truths I would find while reading the Bible. Because wild colors and textures also mesmerize me, I tried to produce visually beautiful backgrounds to hose these verses, so my wife would let me post them on the walls of our house! I daily use a book similar to this (shorted) one, to help re-enter the awesome realities that are ours for the taking. It helps me be filled with joy again and again, and better live above the pains of life. Water colors, acrylics, enamels, inks, and digital media were used to create these mixed-media paintings.
Where to find Matt Violassi online
Where to buy in print
Books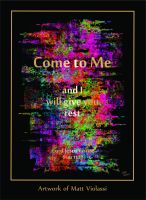 Come To Me
(4.00)
Artwork of Matt Violassi containing Christian-themed paintings.