Matthew Morgan
Biography
The words are what matter, so the best I can offer here is the admittedly self-interested advice that, rather than wondering about me, you read my work. I make some of my writing available for free as I believe in earning a readership, and I would rather contribute to the world of literature than the world of commerce. My latest collection of stories, called 'We Were Children', will be followed next year by a collection titled 'Burn the Pages'.
Where to find Matthew Morgan online
Books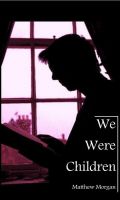 We Were Children
A collection of short stories with sharp edges and dark corners, 'We Were Children' is an experiment in genre and style from author Matthew Morgan. These tales range from a cemetery in Paris to an inner-city flat that won't let its tenant go, from a man with no memory of himself to a couple's complicated relationship with time.
Matthew Morgan's tag cloud