Megan Hussey
Biography
Megan Hussey is a journalist and fiction writer based in Tampa Bay, Florida. A lifelong advocate of women's rights, she was awarded a Certificate of Appreciation from LINCS (Family Support Domestic and Sexual Violence Prevention Task Force) and Sunrise Domestic Violence and Sexual Assault Center in 2011, for her newspaper coverage of domestic violence issues. Her previous books, Jingle Bell Romance and Mauve Christmas, were given out to beneficiaries and volunteers at the East Pasco Toys for Tots toy distribution in 2012. She previously was named Young Woman of the Year by the Altrusa International club of Muncie, Ind.
Where to find Megan Hussey online
Where to buy in print
Books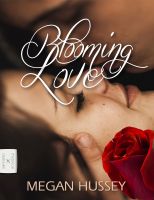 Blooming Love
A strong, everyday woman who devotes herself to the running of her community's domestic violence shelter, Diana has little time for romance, especially with a handsome millionaire who couldn't possibly understand the struggles of her work. Yet when Quinton Collins proves that his sincerity and dedication to women's issues more than equal his looks and charm, their love blooms like a rose...