Megan Morrison
Biography
Some may call me a writer, an author perhaps. Yet my memoir, "And Then it Rained: Lessons for Life," exists first and foremost because I am a dreamer.

I graduated college with degrees in Business Administration/Marketing and Psychology, and work as a project director at a large technology organization. I enjoy my work, and love that it has allowed me to travel to many different parts of the country and overseas. Yet my ambitions reach well beyond my day job.

My mission is about helping kids follow their dreams; "And Then It Rained: Lessons for Life" is about showing them how. I find inspiration in any circumstance, using good times as reinforcement, and bad times as a catalyst for new and more fulfilling opportunities. A famous quote states, "Anyone who says sunshine brings happiness has never danced in the rain."

I've seen a lot of rain… and I've done a lot of dancing.

Visit http://skybluemission.com/ to learn more.
Where to find Megan Morrison online
Books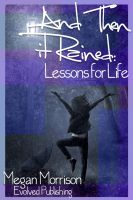 And Then It Rained: Lessons for Life
Evolved Publishing brings you a story of friendship, family, and coming of age, in Megan Morrison's memoir, "And Then It Rained: Lessons for Life." ~~~~~~~~~~ Would you do it again… would you give Maya the letter? Some who know about it have asked me, as if I could actually turn back time. Would I give her the letter, knowing it would push her away?