Michael Petty
Biography
Dr. MICHAEL PETTY Ph.D. is an authority on accelerated learning, IQ, Neuro Science and brainwave entrainment. He has a BA from Durham UK, an MA from Calgary and a PhD from the University of Wisconsin at Madison. He was a Canada Council Doctoral Fellow and his 1980 research on change in IQ scores, published in the British Journal Educational Research is still cited in Psychological texts. His latest book is Michael Petty, How to Boost your IQ and Become an A+ Student, https://www.smashwords.com/books/view/134033
Where to find Michael Petty online
Books
Your IQ is much higher than you think
Your IQ can be developed dramatically. This book shows how a high IQ can be developed, how governments try to stop you succeeding in school, and how you can be a very successful student in school, college and university.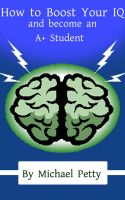 How to Boost Your IQ and become an A+ Student
This book shows you how to boost your IQ significantly. It also shows you how to become an A+ student in school, college or university/ The author, Dr. Michael Petty, carried out some of the earliest seminal research into IQ in 1980. He is a former professor and currently a social scientist. This book is scientific and is completely valid and reliable.
Smashwords book reviews by Michael Petty