Richard Mueller
Biography
ABOUT THE AUTHOR

Following high school and a B.A. in Theater Arts, Richard Mueller served in the U.S. Coast Guard, then used his G.I. Bill to take advanced degrees in writing at Humboldt State and the University of Iowa. He was also an accomplished stage actor with over 70 roles to his credit.

He then came to Hollywood to work as a full-time writer, first in print science fiction, then in television, finally branching out into film, editorial criticism and returning to print. He also hosts "the best open mic show in L.A."

Ray Bradbury advised him to try writing mysteries, so he did.
Books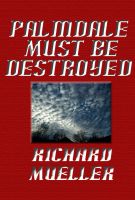 Palmdale Must Be Destroyed
Roy Felker is with the National Security Agency. Pascia Tepec is a cop who works with dead people. It's only natural that romance would blossom while they're fighting to stop Los Angeles from being engulfed by the army of murderous, self-replicating aliens that's sweeping down on the city from the Mojave Desert. The government can't do it. The military can't do it. Only Pascia and Roy can.