Nathan Archer
Biography
Nathan Archer is the author of two Predator novels, two Star Trek novels, a Mars Attacks! novel, and (in collaboration with Kurt Busiek) a Spider-Man novel. He's finally writing some stuff not based on TV or movies.
Where to find Nathan Archer online
Books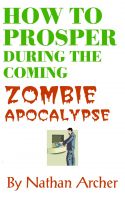 How to Prosper During the Coming Zombie Apocalypse
Plenty of people have offered advice on surviving a plague of flesh-eating zombies, but Nathan Archer (author of Mars Attacks! Martian Deathtrap and Predator: Concrete Jungle) provides suggestions for how you can not just survive, but get rich in the process.
Nathan Archer's tag cloud