Nicholas Laborde
Biography
Legend has it that I was born at the base of a mountain. There were explosions and unicorns and rainbows. In my first moments on earth, I grabbed a pen. I then threw said pen away because I was a screaming infant. Roughly fifteen years later, I started a website that failed three months later. However, not long after that, I embarked on a three year long journey. China had the Great Leap Forward. North Korea had the Arduous March. I had video game journalism. In this time, I learned that words can be used to do stuff and things, but primarily stuff (and rarely things). Occasionally, I commit words to accomplish stuff and produce things. I like to write anything that can bring an issue to the light, whether it be satire, poetry, short stories, or a grocery list.
Books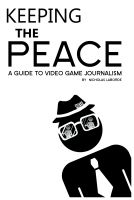 Keeping the Peace: A Guide to Video Game Journalism
by

Nicholas Laborde
Video game journalism is the behemoth mass media machine that determines whether or not video games soar to new heights or fail miserably. Have you ever wondered how it all works? Yes? No? Have no fear! In "Keeping the Peace: A Guide to Video Game Journalism," you will gain a satirical insight into how the game industry works, but specifically as it relates to journalism and journalists.
Nicholas Laborde's tag cloud