Nate Miller
Biography
Nate was born and raised in Michigan and has always had a passion for reading and writing - even before he could read or write. He grew up reading J.R.R. Tolkein, Alexander Dumas, and Robert Jordan. Currently he is finishing the Dark Tower series by Steven King and the First Law Trilogy by Joe Abercrombie.
Hatti grew up in North Carolina and Kansas. She loves drawing and painting and loves to read as well. Together these two make a dynamic reading/writing/drawing pair.
Where to find Nate Miller online
Books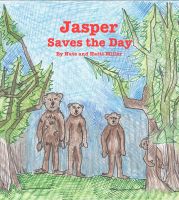 Jasper Saves the Day
(5.00)
Jasper is a small bear who doesn't fit in with his family. One winter, Jasper wanders into a cabin and finds the most amazing things. Things that will change his and his family's life forever.