Nicholas John Greenfield
Biography
Nicholas was born in England and moved to Sydney, Australia, when he was seventeen. Upon realising that his poetry and music career were never going to take off, he turned to the written word, believing that age has nothing to do with success in the literary world and as such he possesses ample time to seek his fortune. The Bandaged Man, his first published work, is to be followed by Love, Lies and Los Zetas, a travel thriller influenced by his time in Mexico and years of life on the road, and The Parisian Mirror, a mysterious story of a young man in Paris who finds an 70-year-old picture of himself at a Parisian flea market.
Where to find Nicholas John Greenfield online
Books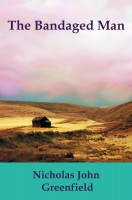 The Bandaged Man
The bandaged man's chest rose and fell as the parentless brother and sister watched and waited. They waited for his secrets to be known, to discover why this hideously bandaged form had stumbled onto their dry and dying land. They waited to uncover why he carried a gun stained with blood. They waited for him to wake and walk and talk and free them from their misery.
Nicholas John Greenfield's tag cloud