Colin J Nicholls
Biography
A Black Country working class lad, Colin was born in 1948 in Wednesbury in the West Midlands, the seventh child of Stephen and Frances Nicholls.

He was educated at Joseph Edward Cox Primary School and Charlemont Secondary Modern School. His father died when he was just fourteen and he started work as an Apprentice Electrician on his fifteenth birthday for West Bromwich Corporation. Here he served his apprenticeship, attending West Bromwich Technical College and qualifying as an electrician. He later became a charge-hand electrician and eventually an electrical inspector.

After retraining at Hall Green Technical College, Birmingham he gained further qualifications as a Clerk of Works. This led to his taking on the posts of Senior Property Maintenance Officer, Principal Technical Officer and lastly, Agency Manager.

Colin left this line of employment when his mother died in 2003 and decided to attend University, thus fulfilling a lifetime's ambition. He attended the University of Central England gaining a BA Hons in English Language and Literature, graduating in 2006. He has also recently attended a Teacher training course at the University of Wolverhampton and is now employed at Hall Green Primary School, West Bromwich.

Colin had his first book of poetry published in 2006, In My Mind's Eye, and he is presently composing a second book of poetry, Star Gazey Boy, and is also attempting to write another work of fiction.
Books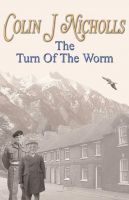 The Turn of the Worm
Set in the 1930's, this is the gripping story of two great friends. Charles Oliver Ward is a sensitive, lonely teenager who is constantly bullied and taunted as a coward at his local secondary school by three teenage classmates. He has lost all but one of his friends because they have become afraid to be associated with him.
Colin J Nicholls's tag cloud