Nicolas Enrique Chavez Manduley
Biography
My real name is Nicolas Chavez, and my author name is Nicolas Enrique Chavez Manduley. As of now I am a cruising my fourth year at Full Sail University in the path of creative writing for entertainment. I write in the genre of historical epic drama, basically novels. I have published some of my work, "José El Cubanazo" published in 2008 and "Doña Isabel y La Esclava" which is in the final face of publication).
Where to find Nicolas Enrique Chavez Manduley online
Books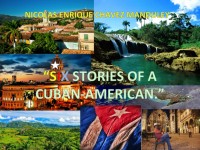 "SIX TORIES OF A CUBAN-AMERICAN"
Adventures awaits you beyond the lines o this short stories, what will happened? is up to you to travel down the path of discovery and decide whether this imaginary trip is worth trying.
Nicolas Enrique Chavez Manduley's tag cloud