Steven J. Nixall
Biography
The author, after having been an active spiritual seeker, healer, and counselor the past two decades, is generally a quiet nomad living in mountain solitude either in the Himalayas, Colorado Rockies, or Peruvian Andes.

On the practical side, Nixall (nee Shupe) has seen many fleeting endeavors and roles pass through his life, ranging from being a Stanford basketball player, to an environmental engineer, to a lawyer, mediator, and finally, a water resource consultant described in 1989 by the L.A. Times as "one of the prominent forces for peaceful evolution in Western water policies."

Nixall laid off his employees in that year for a one-year sabbatical break which quickly became a reality shift filled with spirit guides, psychic encounters, and a path of discovery guided by amazing grace. While composing his spiritual autobiography in 2000 along the Ganges River, Nixall ran out of steam on the true story, so fashioned a plunge into amnesia to enhance the path of exploration, as recounted in "The Now or Never - Amnesia for Fun and Prophet" (a prequel to the MINDGAME series of books to come).

Towards the end of the conjured amnesia process, the author realized that he was actually caught in a deeper, lifelong cycle of forgetfulness—one on the soul level wherein his spirit had fallen into earthly embodiment without any memory of where it had come from or why it is here. Consequently, Nixall has spent the past decade playing an intensive Mindgame to Remembrance, an inner journey of discovery primarily involving Himalayan experiences and additional writing to jar loose clues and hidden secrets via creative imagination.

The first book in THE MINDGAME TRILOGY, "A Mindgame to Remembrance - Awakening to Spirit's Purpose" charts his true adventures through northern India, juxtaposed with scenes from a humorous heaven which is struggling to guide its awkward creation, called Earth, to its ultimate destiny.

After grasping a purpose for earthly existence, Nixall explored alternative realms of existence, the nature of consciousness, and planetary upheaval in "The 'I' of the Storm - A Mindgame through Time".

To complete the path to full remembrance in book three of the TRILOGY, "Dream On to Freedom - A Mindgame Climax", Nixall attempts to merge with his higher mind. The process culminates in an imaginative heavenly realm where preparations are joyfully being made to welcome a new wave of spirits who — after a lifetime of being trapped in their false, human self-identities and forgetfulness on Earth — are eager to awaken to their true nature as pure consciousness.

Remember?

Contact the author at: nixall999@gmail.com
Books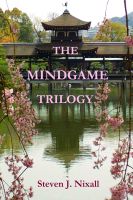 The Mindgame Trilogy - A Path to Spiritual Freedom
(5.00)
Three books and ten years of spiritual insight, humor, and intrigue are wrapped in one rich volume to share with friends in these times of hope, change, and spiritual awakening. For the adventurous reader who enjoys creative flights of imagination teamed with true tales of the sacred and profane to stimulate one's own journey to spiritual liberation. A gift that keeps on giving.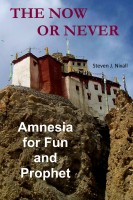 The Now or Never - Amnesia for Fun and Prophet
A spiritual journey through India, a detour into amnesia, a plunge into adventure, as humor lights the way to liberation. A book for the intelligent reader who knows that spiritual truth lies within—and that it takes a bit of laughter, plus facing the muck at times, to get there. Fiction based in fact, the sacred tinged with sacrilege, and an entertaining boost for those on their path to freedom.
Steven J. Nixall's tag cloud