Laura T. Jensen
Biography
A writer of fiction and creative non-fiction, Laura is a member of the North Carolina Writers' Network. Interested in continuing to hone her craft, she has attended numerous writing workshops including: Finding The Story, UNC-CH Friday Center; Diary Writing, Chatham Community College; Personal Essay Writing, Sheila Bender; Amherst Writers and Artists,
Part I & II.

Her work has been published in:
Urban Hiker, 3/2004, A Cat Named Tom; 12/2004, A Christmas Hero
The Rambler, 3/2005, Robinson and Crusoe; 9/2006, Contributor/Your Stories, Eddie; 9/2008 Contributor/Your Stories, The Redheaded Woman
Building Bridges, 2/2008, San Francisco Writers' Conference Anthology, Up Up and Away
Calliope, 12/2009, An Anthology – Women Who Write, Up Up and Away (3rd prize)
News & Observer, 1/2010, Contributor/Readers Who Write, Winter Solstice
The LA Review, 4/2010, Red Hen Press, The Letter
Patchwork Path: Wedding Bouquet, 5/2010, Standing In A Doorway
Gulf Coast Writers Assoc., Magnolia Quarterly 9/2010, The Long Wait (2nd prize)
A Long Story Short: story of the month 6/2011, The Beaches
One Title Magazine: 3/2012, The Best and the Brightest
The Foliate Oak Literary Magazine, 3/2012, The Piano Teacher
Persimmon Tree, 5/2012, The Summer Intern
Telling Our Stories, Accepted for publication 2012, The Last Shot

Laura lived her early life in Bergen County, New Jersey. She attended public schools in both Bergenfield and Westwood and graduated from Westwood High School. A graduate of Lasell College (2011 recipient of the Lasell Medallion and member, Board of Overseers), Laura spent eighteen years in the human resources and training departments of a large organization in New York City. Until recently, Laura and her husband (Jack Hyer) ran a boutique executive search firm specializing in positions in non-profit organizations.
Where to find Laura T. Jensen online
Books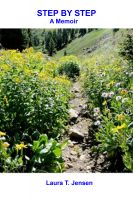 Step By Step
Step By Step is a memoir. A collection of short creative non-fiction pieces, which represent segments of my life. They are recollections of people, places and events; some big, some small, some happy, some sad. These stories richly reflect the times and, of course, me and my friends and family.