Paige Palmer
Biography
Paige K. Palmer holds a Bachelor's degree in English with a concentration in literature from Indiana University at South Bend. She currently lives in Northern Indiana with her husband and daughter, spending all of her free time writing. Ms. Palmer is fervently writing her next novel, Going on Thirty. The Broken Road Home is her debut novel.
Where to find Paige Palmer online
Books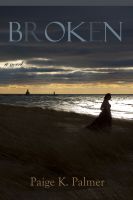 Broken
Broken is the bittersweet journey of a man desperately trying to come to terms with his wife's suicide only to discover that he never truly loved her, but loved another woman instead.
Smashwords book reviews by Paige Palmer
Smashwords Style Guide on Oct. 09, 2011

I will say formatting my novel took a lot longer than I had hoped, but that was due mostly to the fact that I have the newest version of microsoft, which should make things simpler, but doesn't. So anyone out there with the newest version of windows 7, hunker down and be prepared to figure some things out on your own. Other than that, I found the style guide extremely helpful and found that everything uploaded properly.