Pat MacEnulty
Biography
Pat MacEnulty is the author of four novels, including Sweet Fire, and a collection of short stories. She is also a teacher, workshop leader, writing coach, and freelance editor. She lives in Charlotte, North Carolina.
Where to find Pat MacEnulty online
Books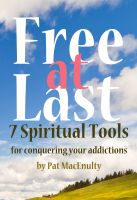 Free At Last: 7 Spiritual Tools for conquering your addictions
Drawing on her own experiences as a former drug addict along with the experiences of other recovered addicts and alcoholics, Pat MacEnulty has formulated seven tools to conquer a variety of addictions, including food, nicotine, drugs, alcohol or sex. Incorporating the teachings of mystics and spiritual traditions, MacEnulty offers a simple guide for transformation.
Pat MacEnulty's tag cloud