Patricia Jones
Biography
Patty was born on Old Bando Station near Wyandra in a remote part of outback Queensland Australia. When I was 3 years old the family moved to Minetta Station (cattle, sheep). There was a hot bore 100 yards from the house and we carried buckets of water to the house as needed. Cooking was on a wood stove, lighting by kerosene lamp, also the fridge ran by kerosene. Groceries all came by mail to Barneys, 14 miles away and we went there by sulky each Sunday to get the mail and supplies. We did school by primary correspondence and the lessons came from Brisbane, 1000 kilometres away. Our mother, Holly Jones, taught the lessons and our school papers were mailed back to Brisbane each week. We moved to the town of Charleville when I was in my thirties - the first time we had electricity, running water, floor coverings and so on. It was convenient but a a lot different and we did miss the bush way of life.
Books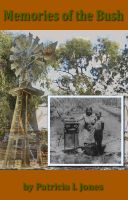 Memories of the Bush
Verse stories telling snippetts of life in outback Australia - on station properties and in an outback town. A life lived devoid of any luxuries, without ever a complaint, but full of simple joys, happiness and love.
Patricia Jones's tag cloud