Paul Czuchra
Biography
Paul Czuchra moved from Chicago to Las Vegas in 1979. He began his career in the sportsbook industry in the Castaway's sportsbook. From there he went on to become part of a group that made the "Las Vegas Line." He has worked with the most respected Las Vegas oddsmakers and handicappers. He has also written an MA thesis and a doctoral dissertation in Political Science at the University of Chicago.
Where to buy in print
Books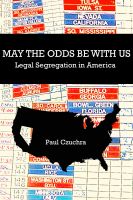 May the Odds Be With Us Legal Segregation in America
Americans are legally segregated. MAY THE ODDS BE WITH US shows how and why corporate sports monopolies and their political representatives were able to enact the Professional and Amateur Sports Protection Act. That legislation created legal segregation. The principles of liberty and justice apply to all Americans. Everyone should be free to make wagers on sports.
Paul Czuchra's tag cloud