Mary Boland
Biography
Mary Boland is a freelance writer, editor and quilter living in small town Maryland. She regularly contributes reviews on quilting books to Seminole Sampler, a Baltimore-area fabric shop. She is currently testing recipes for an upcoming book on gluten-free cookies, developing patterns for a book of quilts, and researching historical quilts.
Books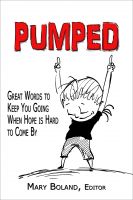 Pumped: Great Words to Keep You Going When Hope Is Hard To Come By
(4.50)
Pumped is a book of inspirational quotes for those looking to change their lives. It also includes short paragraphs on many well-known people who chose to ignore their own naysayers and went on to achieve greatness in their fields. Saints or sinners, the common theme is keep trying.