Restore Oklahoma Public Education
Biography
Restore Oklahoma Public Education (R.O.P.E.) is committed to educating tax-paying citizens and parent stakeholders on the ways in which the methods and philosophies used in public education today affect them. From budgetary allotments to curricula, ROPE attempts to make Oklahomans aware of how every dollar spent and every idea taught can actively influence the future voters enrolled in Oklahoma Public Education today.
Where to find Restore Oklahoma Public Education online
Books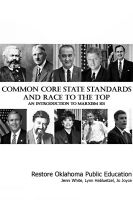 Common Core State Standards and Race to the Top - An Introduction to Marxism 101
This is highly detailed research into the state education system and the inclusion of Socialism and Marxism that are destructive to the American way of life. Taught to our children in public schools as a legitimate means to govern that's worthy to pursue, millions of parents in their respective states have no idea this is being pushed by their publicly funded educators.
Restore Oklahoma Public Education's tag cloud