R.P. Steeves
Biography
R. P. STEEVES has been writing in just about every format imaginable since he was a child. He's written short stories,newspaper columns, stage plays and even a radio drama. Now he has written his first urban fantasy novel about an adventurous, sarcastic and mysterious woman known only as Misty Johnson, whose mission in life is to uncover the truth that hides in the supernatural underbelly of Washington DC.

Rich was born and raised in Connecticut, has a Master's degree in education, and taught middle school for nine years. He enjoys solving puzzles, rollerblading, watching movies and has recently taken up archery. He looks forward to chronicling the further adventures of Misty Johnson and her band of supernatural misfits...
Where to find R.P. Steeves online
Books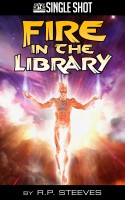 Fire in the Library
A man named Pur Fotia has a secret—but one he can never tell. Marked for greatness, he can summon fire to envelope his body so that he can fly through the air, and does so when he is summoned to the great Library of Alexandria.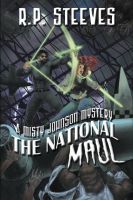 The National Maul (A Misty Johnson Mystery (Book 2)
Misty Johnson has a werewolf problem. Since hanging up her shingle in Washington, DC, the supernatural investigator has kept a tight lid on the local pack. But someone – or something – has been supporting a rival group of werewolves. This new pack will do anything to wrest control of the city, including stealing a priceless artifact from the Smithsonian Air and Space Museum.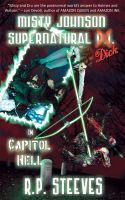 Misty Johnson, Supernatural Dick in Capitol Hell
(4.00)
Centuries ago, Misty Johnson was cursed with near immortality when a black magic spell she was casting backfired…and the supernatural realm has regretted it ever since. Now, with the help of her partner, Dru Chance, the two take on the magical underbelly of Washington D.C. An unnatural life span. A timeless mission. A woman like no other. Just don't call her a detective!