Rebecca Whitecotton
Biography
Rebecca Gittrich Whitecotton is the author of Santa's Greatest Gift, which is given here as a gift and is also available in a printable pdf form on her website, http://www.brighttreasures.net.

Rebecca is also the author of the award-winning children's book, Child of Mine, Know This. Called "the single most imaginative children's book to come along in ages," by Conversations with God author Neale Donald Walsch, Child of Mine, Know This is an emotional and heartwarming love letter from parent to child about the spiritual nature of children and adults and the roles we agreed to play with each other in the adventure of life. The metaphysical message acknowledges that our children are not lesser beings simply because they are smaller, and touches on the possibilities of previous lives and the roles parents and children play to help each other on their spiritual and physical paths. A popular and unique feature is that the book was designed to be easily personalized by taping your own photographs over the photos in the book, but the book is whole and complete without added pictures. Child of Mine, Know This will bring tears to your eyes and create memories for your children that will last a lifetime.
Where to find Rebecca Whitecotton online
Videos
Child of Mine, Know This by Rebecca Whitecotton
This is a video of Rebecca Whitecotton's award-winning book, Child of Mine, Know This. The personalizable gift book is available from http://www.brighttreasures.net.
Books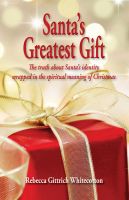 Santa's Greatest Gift: The Truth about Santa's Identity Wrapped in the Spiritual Meaning of Christmas
(5.00)
Rumors are flying that Santa is not real, and that he takes away from the true meaning of Christmas. Santa responds to these accusations, revealing his true identity and shedding light on the Christ Spirit present in every soul on earth. It is Santa's hope that the peace of Christmas will be found through the recognition of the Giving Spirit and the Christ Spirit inside ourselves and others.