Rachel D. Thompson
Biography
Rachel D. Thompson enjoys writing fantasy, science fiction, and paranormal romance. Demon's Torment is her first published book. She likes the thought of unleashing her demons on the world. Currently, she resides in South Dakota with her husband and the many characters that fill her head.
Where to find Rachel D. Thompson online
Books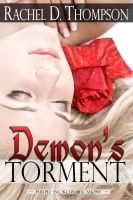 Demon's Torment
Lately Ally's been haunted by disturbing dreams of women being chased by an unseen demon, leading to their violent deaths. When she learns of her father's grave illness, she heads for home, not knowing she's heading straight for the demon of her dreams.