Monica Anderson
Biography
Just like thousands of other people, I've always wanted to be a writer. Some constructive criticism would be very helpful, so feel free to leave me some comments. Mainly I'm just playing around.
Books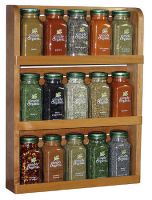 The Spice Rack
(4.20)
Straight-laced Harry Lancaster has no explanation for the weird and possibly supernatural occurrences in his kitchen.
Smashwords book reviews by Monica Anderson
Birthday Wish on April 14, 2010

Cute :)

A Mother's Revenge on April 15, 2010

Creepy but not fantastic. Definitely made my skin crawl. A good reminder to just put the devil outside instead of stomping him (or her).

The Scary Part on Jan. 17, 2011

Loved it!