Karyn Rashoff
Biography
Karyn Rashoff devoted thirty-three years to a busy career in secondary education serving as a counselor to the teen-aged subculture in California high schools - without ever a dull moment. She earned her Master of Science degree in Educational Counseling at Cal State University, Long Beach, in 1978, and has since interacted professionally with nearly 20,000 students and their families, helping to define and resolve the problems that often arise between teens and their parents during any child's academic development. Karyn has written many articles on parenting, spoken at countless parent nights and counseled thousands of teens dealing with grief, the pain of perceived betrayal by friends, and difficulties with teachers, parents and their own ever-changing priorities. A long-time resident of Orange County, California, she delights in singing with three community choral groups and is an avid gardener. Her son is now in graduate school.
Where to find Karyn Rashoff online
Where to buy in print
Books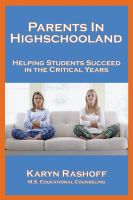 Parents in Highschooland
Author/educational counselor Karyn Rashoff identifies, analyzes and suggests paths to the resolution of the complex and often puzzling interactions that take place during the high school years among parents, teachers, coaches, tutors, school administrators -- and, of course, the students themselves! Her credentials? Nearly 20,000 interviews during a 33-year career in secondary counseling.