Ray Saint
Biography
I am a professional speaker and now, a published author. Through my company, Positive Focus Inc., I speak to groups and organizations about communication, leadership and life balance among other topics. I am a Master level instructor, 5th degree black belt, in the disciplines of Tae Kwon Do and Hap Ki Do. I have been teaching and training for 26 years.
Where to find Ray Saint online
Where to buy in print
Books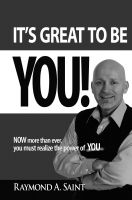 It's Great to Be YOU! Now more than ever, you must realize the power of you.
In the world of personal development books, this book is a breath of fresh air; no fluff, no filler, just substance. It is a must read for anyone looking to maximize their potential. The opportunities available to you are in direct relation to your commitment to you, and that should excite you beyond imagination. What are you waiting for? Order "It's Great to Be You" and live the life you deserve.