Jeanne Oliver
Biography
If there is such a thing as a "Croatologist", Jeanne is it. She has been visiting and reporting about Croatia regularly since 1996 and now publishes www.croatiatraveller.com, a 1600-page guide which has been online since 2005. She wrote the first guidebook in English to Croatia for Lonely Planet in 1999, followed by three subsequent editions. Her travel articles have appeared in the Miami Herald, San Francisco Chronicle, St Petersburg Times, the Denver Post, National Geographic Traveler and the New York Post.

Transferring her knowledge and expertise on matters Croatian to the web has allowed her to expand upon her advice to travelers and keep Croatia travel information fresh and up-to-date. Going "indie" as a travel publisher has also allowed her to tell the unvarnished truth about the best--and worst--Croatia has to offer on everything from accommodation to dining to transport to sights. Jeanne travels to Croatia annually to update the content on her website.

Jeanne caught the wanderlust bug at an early age by reading the New York Times Travel section which inspired dreams of foreign adventure. She's boated the Amazon, photographed the gorillas of Rwanda, trekked the Pantanal, and camped in the Sahara. She's most fortunate to make her living from travel, first from writing a series of books for Lonely Planet and Frommers and now from running her websites: croatiatraveller.com, frenchrivieratraveller.com and riviera-beaches.com.
Where to find Jeanne Oliver online
Books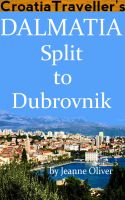 Croatia Traveller's Dalmatia: Split to Dubrovnik
Croatia Traveller's Dalmatia: Split to Dubrovnik is a comprehensive travel guide to Croatia's most beautiful region. From ancient Split to wooded islands to Dubrovnik, the "pearl of the Adriatic", this guide covers it all in a fun, easy-to-use format. Written by a travel pro, you'll discover the best local restaurants, the hottest nightlife and all the practical details you need to plan a visit.