Rick Kahler
Biography
Rick Kahler, CFP, a fee-only financial planner and president of Kahler Financial Group, is a nationally known speaker and educator. He is a pioneer in financial planning that addresses clients' emotional issues around money. Kathleen Fox is an editor, humor writer, and speaker. Despite her English major, she has never held a job where she had to ask, "Would you like fries with that?"
Where to find Rick Kahler online
Books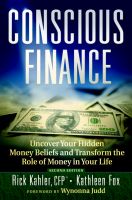 Conscious Finance: Uncover Your Hidden Money Beliefs and Transform the Role of Money in Your Life
Learn how to manage money instead of letting money manage you. Poor money choices are often based on deep, unconscious beliefs about money. This readable, practical book shows you how to discover those beliefs and break their power. It gives you tools for taking control of your day-to-day money decisions so you can use money as a valuable resource for building a fulfilling life.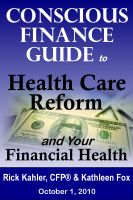 The Conscious Finance Guide to Health Care Reform and Your Financial Health
The 2010 Health Care Act will affect all Americans, but it is so complex that few of us understand it. In this Guide, the authors of Conscious Finance summarize the Act in plain English and explain how it may affect your life and your wallet. They offer financial planning strategies to cope with the impact of this significant legislation. A must-read for both financial and physical health.
Rick Kahler's tag cloud