R.L. Nielsen
Biography
Richard L. Nielsen was born in 1964 in Ogden, Utah. He now lives and works in Denver, Colorado. Richard is a writer, artist, self-taught gourmet chef and a big fan of dachshunds. After eighteen years in the interior design industry, changes in the economy preceded the closing of his world-class businesses in Arizona and Colorado. Since 2006 Richard has followed his passion for writing full time.
Where to find R.L. Nielsen online
Books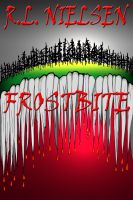 Frostbite
An accident at an oil-drilling site in the Alaska wilderness opens a door to another world. Trapped from rescue by storms, the crew struggles to survive a growing abyss while mind-altering monsters hunt them down.
R.L. Nielsen's tag cloud